2013 Ratings Update: Daytona (2)
[NOTE: Toward the end of each week, I will review the previous race's U.S. Nielsen rating and how it fits-in historically. I would love to read your opinions on how and why ratings at each track have changed over time. You may send me your commentary on Twitter at or via email at .]
It is a difficult year for "NASCAR on TNT." Events out of the network's control, such as rain delays and an intriguing U.S. Open, certainly hinder the channel's ability to draw a better household rating. TNT had a bit of a breakthrough this weekend at Daytona, though. According to Bloomberg, the 2013 edition of the annual 400-miler pulled a solid 3.5 household rating. I plot the time series of television ratings for this event:

As I noted in Tuesday's entry about night racing, Daytona's summer race is largely a successful endeavor. Despite NASCAR's recent struggles to widen its television audience, last Saturday's race nearly cracks the list of top ten night races on cable since 1996. The restrictor-plate event in Florida owns four of the ten, the most of any track on the schedule:

The mid-summer race at Daytona is a flourishing prime-time event and TNT's centerpiece for its "summer series." Previously, the event was held on the Saturday morning of Independence Day weekend to beat the heat and humidity. From 1998 to today, however, Daytona runs its holiday race "under-the-lights." And although the ratings are somewhat down since the early 2000s, the value of this race on television holds extremely well compared to the rest of NASCAR's Cup Series ratings. So you can visualize that phenomenon, I add a trend-line for NASCAR's average ratings over the years: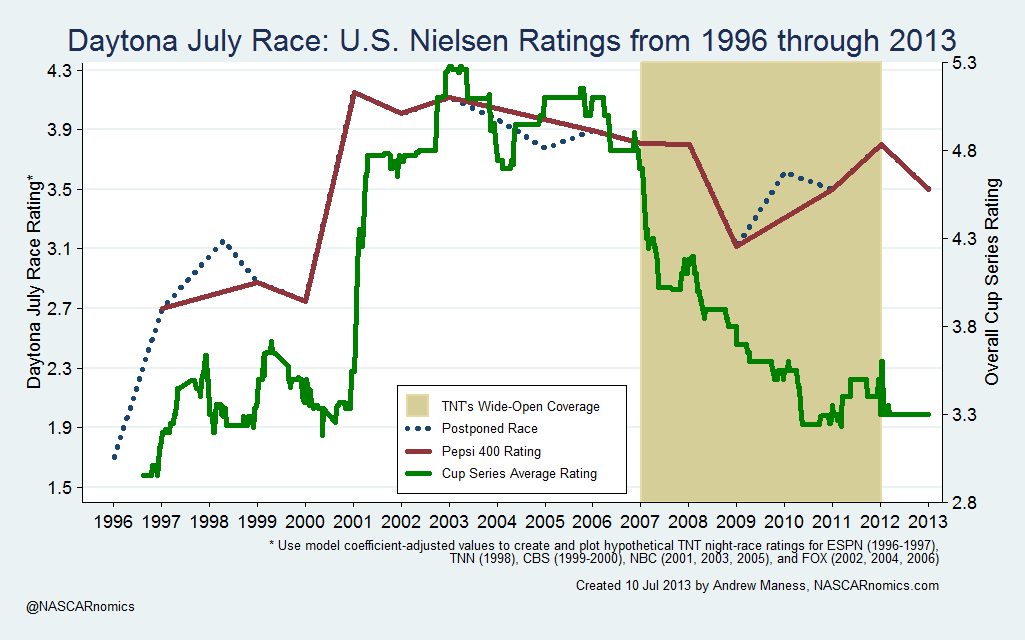 The green line represents the average rating from week-to-week for the Cup Series. Daytona's July race follows the general interest trend of NASCAR until 2008. While the rest of the series begins its long descent from its peak rating in 2003, the popular superspeedway night race drops a little in 2009 (the only edition in the sample that ran on Independence Day) and posts strong marks elsewhere. Why do you think that is? Why is the 400-mile race not declining like most other scheduled events? I shade the years that TNT utilizes its "wide-open coverage" of limited commercial-breaks for this specific event. I'm not sure whether the ratings perform relatively well because of this feature, but there certainly exists a relationship between its limited-commercial coverage and the network's ability to maintain viewership far better than most races on the circuit. I'd like to read your opinion on this — did Daytona produce satisfactory ratings during some of the series-wide "down" years because of fewer commercials?
As I mentioned at the top of this entry, the return trip to Daytona matches my model's prediction of a 3.5 rating. Although TNT statistically meets its expectations to-date (that is, all races fall within the light-blue "confidence interval"), this race's rating reinforces that TNT can still draw a robust audience given its cable constraints:

"NASCAR on TNT" airs its final race of 2013 next weekend at the "Magic Mile" in Loudon. I forecast a household rating of 3.2 for the event. That would be on-par with last year's 3.1 from New Hampshire.
I always welcome feedback. It's what makes me a better researcher, analyst, and writer (I'm a terrible writer). Please do not hesitate to contact me via email at , on Twitter at , or on the site's "Reddit" page. Thank you for your reading and support.