2013 Ratings Update: Loudon (1)
[NOTE: Toward the end of each week, I review the previous race's U.S. Nielsen household rating and how it fits-in historically. I would love to read your opinions on how and why ratings at each track have changed over time. You may send me your commentary on Twitter at or via email at .]
"NASCAR on TNT" capped its seventh consecutive "summer series" last weekend in New Hampshire. By most accounts, the 3.2 household rating meets expectations. I calculate the race's historical network-adjusted ratings and list them below:

I notice that there are a few rain-delayed events mixed in there, so I attach a graph to visualize Loudon's performance over time. I highlight the years in which the summer race immediately follows the 400-mile event from Daytona:

There are two points that I want to touch here (I'd love to read some of your opinions, too).
The first is relatively minor — New Hampshire added progressive banking in its corners prior to 2003 to enhance competition. I wonder if that explains the "rebound" in television ratings after a tumultuous 2002 event that performs well below the trends of other Cup Series events.
The television valued added to this event by directly following the summer race at Daytona is initially ambiguous. (These events are shaded in khaki in the chart above.) From 1996 through 2000, the Loudon summer race does not exhibit any growth that exceeds most races' normal trend. Recently, the event's rating-increase coincides with running the week following a popular restrictor-plate race. Television continuity may explain this small phenomenon. Under the current schedule structure, New Hampshire benefits from having its race air one week later and on the same network as one of the most popular summer races on NASCAR's schedule (TNT). In the late 1990s, however, the event aired on TNN; while the Daytona night race was shown on CBS. Retaining an audience from week-to-week is difficult when having little chance to promote the week prior.
"NASCAR on TNT" has completed its six race "summer series" for 2013. How accurate has my econometric model predicted this season's television ratings? Perfectly accurate in a statistical sense — I've not missed the mark on any race yet. TNT stuggled a bit at Pocono, but the U.S. Open dampened the household size for the Michigan race. Furthermore, Sonoma was a bit drawn-out due to rain; Kentucky was postponed an entire day. The last two weeks for TNT are a good measure of this summer's household audience. Additionally, the model hit Loudon's 3.2 final rating with no error: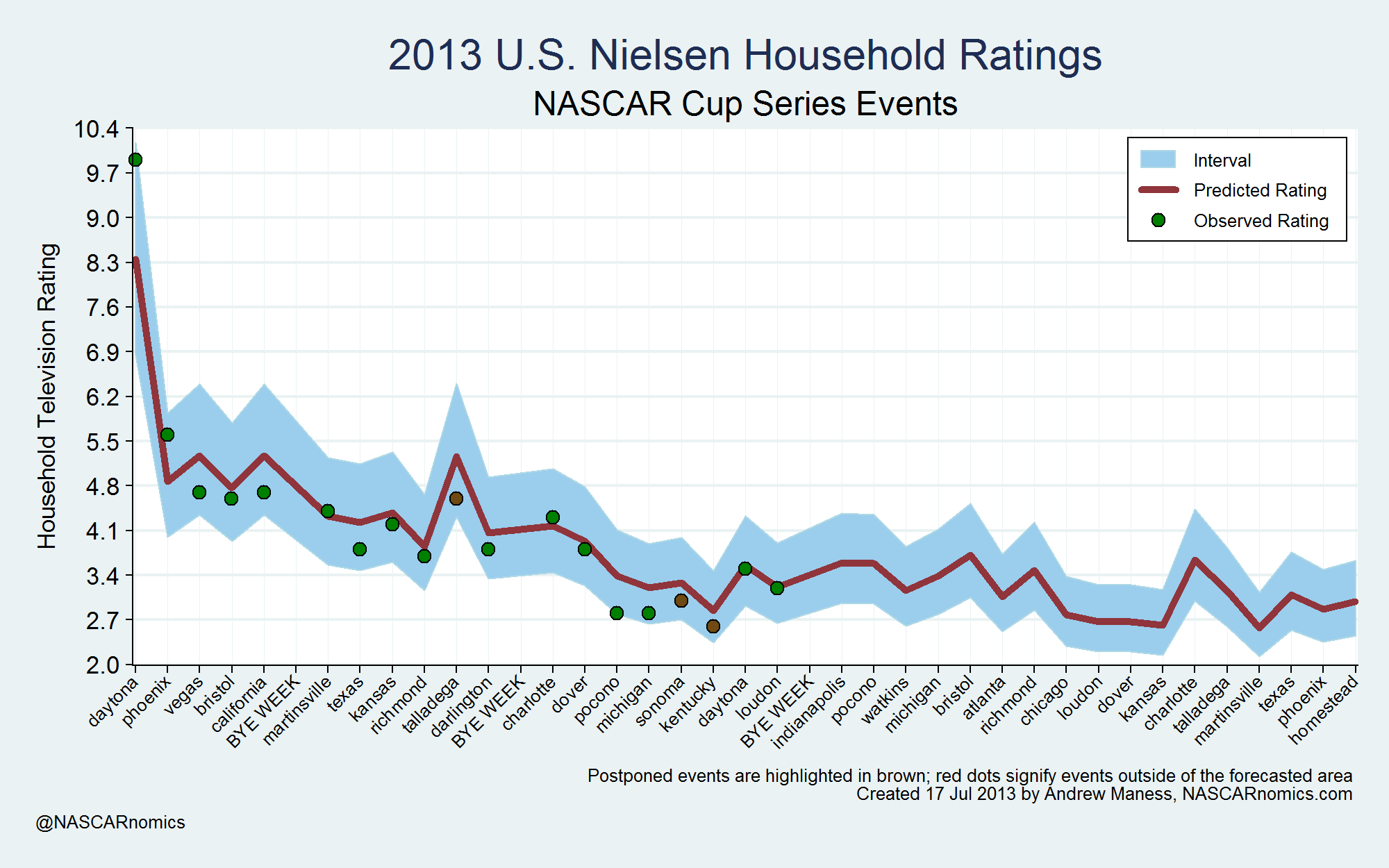 I always welcome feedback. It's what makes me a better researcher, analyst, and writer (I'm a terrible writer). Please do not hesitate to contact me via email at , on Twitter at , or on the site's "Reddit" page. Thank you for your reading and support.